UI Designer
This position is no longer active
Either the position was filled, or the ad has expired.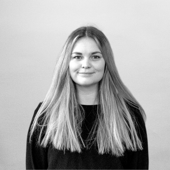 Contact
Frida
Junior HR Business Partner – Operations
Why work with us?
Work & Development

An open, non competitive and highly collaborative environment

Small and creative teams with high technical competence

Compensation

We offer competitive salaries and yearly salary revisions

We have a generous insurance and private pension package, including private health care

Six (6) weeks paid vacation and work-free "bridging days"

We offer each team member a wellness grant of 5,000 SEK per year

If you move to Sweden from abroad, we will assist you in relocating

Social

Our large kitchens are there for Friday breakfasts, lunches, fruit, snacks, great coffee - and of course; our FaTuesdays with the famous Swedish "fika"

After-work activities, weekly exercise club, parties, lunch clubs, board game nights...
Our values
CREATIVITY

Our creative mindset fuels artistic expression, mutual inspiration, and risk-taking in everything we do. It means taking pride in what we do and sharing it openly.
BALANCE
Balance is fundamental to making our life, work, and games brilliant. It means asking for help, accepting help and offering help.
COLLABORATION
Collaboration is our essence — it's the combination of our unique talents that makes us great together.
TRUST
By choosing trust, we're empowered to be creative, balanced and collaborative. It means growing together and trusting the experience and capability of others.
About 10 Chambers
10 Chambers was born in 2015 out of a passion for pushing the boundaries of co-op gaming. Founded by Ulf Andersson — the game designer who brought you PAYDAY and PAYDAY 2.

GTFO — a 4-player co-op FPS — is the studio's first game, a love letter to everyone that values communication and collaboration. GTFO has won awards and been nominated for them and is available on Steam.
Now we're cooking up the next legendary co-op gaming experience.