Outsourcing Artist
JOIN US IN COOKING UP THE NEXT LEGENDARY CO-OP GAMING EXPERIENCE!
10 Chambers is a fully funded scale-up game studio backed by Tencent and based in the beautiful city of Stockholm, Sweden. We are an ambitious, creative, and collaborative team with a lifelong love for games.
We are continuing the development of our first game GTFO but have now also entered pre-production of our next project, a cooperative heist FPS set in a techno-thriller world. Originated and directed by Ulf Andersson, the creator of Payday.
We are now looking for an Outsourcing artist to join our team.
What you'll do
Monitor external vendor submissions to ensure that quality is both consistent and high as well as adhere to technical specifications and art direction guidelines.
Work with Environment, Character, Hard surface, VFX and Art leadership to generate and provide feedback to external vendors.
Use commercial and proprietary software to review incoming Art assets at various stages of production
Understand and articulate our asset creation process and provide critical feedback to external vendors
Provide paint-overs with notes or image references where written feedback is not sufficient.
Requirements
2+ professional years working in the games industry with Character, Environmental Art or Hard surface creation.
Experience with one of the leading 3d packages. (3ds Max, maya, blender).
Excellent communication and writing skills
Good understanding of Art creation process and pipeline in relation to game development
Solid organizational skills 
Good understanding of Art fundamentals, color theory and anatomy
Excellent English, both written and verbal (Swedish is not a requirement
Bonus
Previous experience working as an Outsourcing artist
Understanding of Zbrush, Substance and asset creation for realtime rendering.
Unity experience
Shader and texture experience.
Why join 10 chambers? 
Be part of an ambitious team which also practices work life balance through working hours and generous health benefits 
Learn as part of a collaborative team and grow with a fast-expanding company 
Opportunity to make a real difference to the success of 10 Chambers 
The position is on-site in our Stockholm office, we are happy to assist with relocation from abroad/work permit 
About us
We want an open and inclusive work environment where everybody is valued, feels safe, is treated equally and with respect. At 10 Chambers we welcome everyone regardless of gender identity and expression, ethnicity, religion or other belief, disability, sexual orientation, or age. Today our team consists of 20+ different nationalities and the office language is English
Department

Creative

Role

Outsourcing Artist

Locations

Stockholm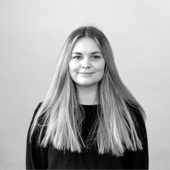 Contact
Frida
Junior HR Business Partner – Operations
Why work with us?
Work & Development

An open, non competitive and highly collaborative environment

Small and creative teams with high technical competence

Compensation

We offer competitive salaries and yearly salary revisions

We have a generous insurance and private pension package, including private health care

Six (6) weeks paid vacation and work-free "bridging days"

We offer each team member a wellness grant of 5,000 SEK per year

If you move to Sweden from abroad, we will assist you in relocating

Social

Our large kitchens are there for Friday breakfasts, lunches, fruit, snacks, great coffee - and of course; our FaTuesdays with the famous Swedish "fika"

After-work activities, weekly exercise club, parties, lunch clubs, board game nights...
Our values
CREATIVITY

Our creative mindset fuels artistic expression, mutual inspiration, and risk-taking in everything we do. It means taking pride in what we do and sharing it openly.
BALANCE
Balance is fundamental to making our life, work, and games brilliant. It means asking for help, accepting help and offering help.
COLLABORATION
Collaboration is our essence — it's the combination of our unique talents that makes us great together.
TRUST
By choosing trust, we're empowered to be creative, balanced and collaborative. It means growing together and trusting the experience and capability of others.
About 10 Chambers
10 Chambers was born in 2015 out of a passion for pushing the boundaries of co-op gaming. Founded by Ulf Andersson — the game designer who brought you PAYDAY and PAYDAY 2.

GTFO — a 4-player co-op FPS — is the studio's first game, a love letter to everyone that values communication and collaboration. GTFO has won awards and been nominated for them and is available on Steam.
Now we're cooking up the next legendary co-op gaming experience.
Outsourcing Artist
JOIN US IN COOKING UP THE NEXT LEGENDARY CO-OP GAMING EXPERIENCE!
Loading application form